DELIVERY & RETURNS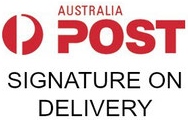 For a limited time, we are offering FREE DELIVERY/SHIPPING* with Tracking & Signature on Delivery for all your online purchases to most major cities and suburbs throughout Australia only.
DELIVERY TIMES
Once orders are received, they are processed, securely packaged and shipped within two business days.
After this, delivery will generally occur according to the schedule below:
NSW & ACT: 1 to 4 business days

NT: 1 to 6 business days

QLD: 1 to 3 business days

SA: 1 to 6 business days

TAS: 1 to 6 business days

VIC: 1 to 6 business days

WA: 1 to 7 business days
Customers please note that there could be delays in deliveries over public holiday periods.

*Additional charges apply for Express Post Delivery, email us for a quote.
*International Shipping/Deliveries & Conditions
For all deliveries outside Australia please Contact Us before placing your order for pricing and delivery times.
*Additional Shipping & Packing Costs may apply.
Please feel free to browse and thanks for visiting The Carrom Australia Online Store. If you have any questions at all please feel free to email us at: Sales@Carrom.com.au
Carrom Australia Pty Ltd., ABN 82 224 132 447, ACN 078985 145